I am using Lithium on my Thinkpad x270 and I have a HP v185ws monitor connected via HDMI.
If I apply an RandR layout using an additional screen and I drag application windows around on that additional screen, then I see "trail" artefacts only on the second screen: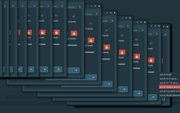 From a cold boot and logging in, providing the monitor is already connected via HDMI, I don't see any artefacts on the second display when dragging application windows around.
However, if I invoke the display layout via ARandR (GUI) or via the shell script that was created and saved for this display arrangement, then I see the artefacts.
lspci -k:
00:00.0 Host bridge: Intel Corporation Skylake Host Bridge/DRAM Registers (rev 08)
	Subsystem: Lenovo Xeon E3-1200 v5/E3-1500 v5/6th Gen Core Processor Host Bridge/DRAM Registers
	Kernel driver in use: skl_uncore
00:02.0 VGA compatible controller: Intel Corporation HD Graphics 520 (rev 07)
	Subsystem: Lenovo Skylake GT2 [HD Graphics 520]
	Kernel driver in use: i915
	Kernel modules: i915
I have the same issue on Lithium on a live USB in a different system, a Macbook A1342 using  NVIDIA Geforce 320M graphics and the default nouveau driver.