rbh wrote:
No. In Helium default terminal is terminator. In Lithium it is lxterminal.
I suspected it could have been a different terminal app and that the default may have changed more recently but could not remember neither the new or old terminal names as I have never needed to change it.
So, it appears my default terminal for both jgmenu and hotkeys (Super+T) have recently changed from `lxterminal` to `lxterm`.  As both had seemed to have changed, I suspected Alternatives was to blame.  Indeed, `x-terminal-emulator` was pointing to `/usr/bin/lxterm`.  How could this have happened?  As mentioned, I was more than happy with the default so felt no need for tinkering.
A quick change to Alternatives resolved this:
sudo update-alternatives --config x-terminal-emulator
and selecting the appropriate terminal [option 3]:
  Selection    Path                 Priority   Status
------------------------------------------------------------
  0            /usr/bin/lxterm       30        auto mode
  1            /usr/bin/koi8rxterm   20        manual mode
* 2            /usr/bin/lxterm       30        manual mode
  3            /usr/bin/lxterminal   20        manual mode
  4            /usr/bin/uxterm       20        manual mode
  5            /usr/bin/xterm        20        manual mode
Alternatively (no pun intended), this can also be changed via the jgmenu: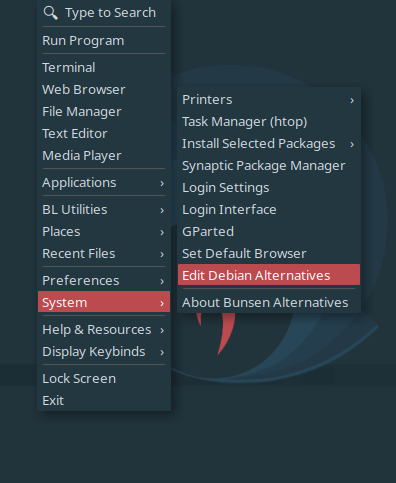 and then selecting the appropriate choice: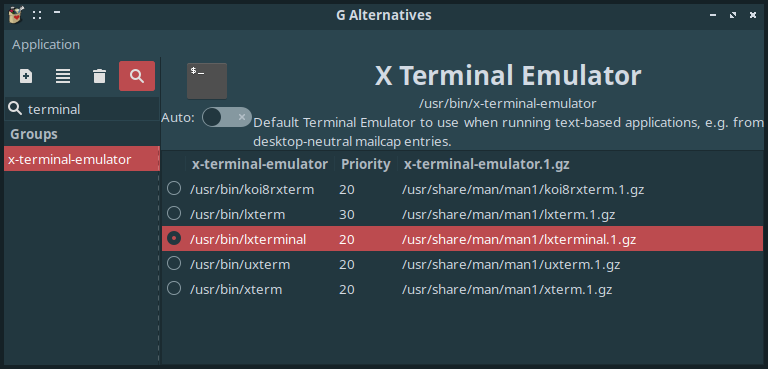 Last edited by jimjamz (2020-05-31 18:09:14)