Has anyone used xephyr? (xserver-xephyr)
xephyr is a nesting program to allow you to run other window managers inside your current session without disturbing said session.  However, I am having a problem.
The whole point of using something like this for me, is to change the settings for gtk-2.0/3.0 in jwm because they show differently than in openbox. xephyr doesn't respect the currently chosen gtk theme for the main session, instead showing a default configuration.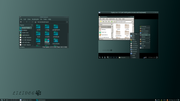 *note the theme inside xephyr - should be the slate color and icons.
Everything is correct in the .jwmrc file regarding startup, and works fine when started from lightdm. (using xfce4-settings in the main session).
Is there anything to do that will transfer the settings info to xephyr?  Kinda makes it useless for anything other than viewing the window manager theme if it can't.
Currently opening with:
Xephyr :1 & DISPLAY=:1 jwm
Last edited by sleekmason (2021-10-01 10:17:45)