DeepDayze wrote:
...perhaps will set up Wine to run it on my BL system
Enjoy!
DeepDayze wrote:
Would be nice to get it full screen too, if someone has the trick to get it to do that under wine.
For me it's depended on the window manager. Usually pressing F4 will fullscreen the app at least in the wrong resolution, and restore to normal window after, but on openbox the restored window is messed up. I've tried it under a few wm's over time like xfwm, marco, probably even compiz back in the day and sometimes it works but sometimes it doesn't :-)
ohnonot wrote:
So, I looked at /usr/share/applications/wine.desktop and it executes

So, I tried it manually, e.g.:

wine start /unix ~/.wine/drive_c/Program\ Files\ \(x86\)/Windows\ NT/Accessories/wordpad.exe

In other words, you can use normal unix paths, and backslashes only escape shell-special characters.
No silly \\\\\\\ stuff.
I just don't know why yet clicking on the desktop file in thunar works OOTB but to run from shell or jgmenu I need to modify the Exec line.
ohnonot wrote:
where'd you get the executable? I want...
I can't figure out how it's licensed so I don't want to post warez but there's a few download links through google search
malm wrote:
I've pushed a couple of fixes...
Thank you! With your update, jgmenu now locates the desktop file at applications subdirectory.
However, the program still doesn't run without modifying the Exec line of the desktop file when selected through the menu. It does run without modification when clicking on the desktop file in Thunar. I tested more by installing another windows program (notepad++) and found the same - the application is now found in the menu, but it still won't launch.
If there is any more information I can provide please let me know
edit -
To be more precise, what happens is I open the menu, select the application name, then it gives me a series of wine dialog boxes saying "File not found [OK]" which I hit ok for until they go away, and that is it.
This is what it looks like from the console:
rkw@rose:~/build/jgmenu$ ./jgmenu-apps | ./jgmenu --simple
jgmenu-apps: 'vlc.desktop' invalid TryExec
jgmenu-apps: 'vim.desktop' invalid TryExec
rkw@rose:~/build/jgmenu$ Application could not be started, or no application associated with the specified file.
ShellExecuteEx failed: Invalid window handle.


rkw@rose:~/build/jgmenu$
edit again -
Another item of interest- for comparison, while testing a different menu program, there is a separate application category entitled "Wine" from which the wine applications are visible and can be launched. This is a vanilla instance of openbox with xfce4-panel running: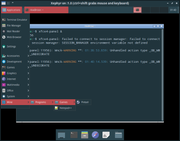 Last edited by Nick (2021-02-20 06:41:29)