Howdy All,
I finally figured out my theming issues:) Geez.  You don't know what you don't know I guess.
I downloaded Thunar thinking It would be a drop in replacement for pcmanfm. Lol.  Huge learning experience. 
I first found Beam <- excellent work hhh! 
Then I went on to Greybird and Blackbird, using the Blackbird gtk2 base coupled with the css from Greybird.
May still be an odd or end as there are almost 5000 lines of code to dive through, but overall good to go now:) No more sulky browns where I can avoid it. Playing with the gtk inspector has been interesting as well.
This particular build is Fluxbox.  Just Fluxbox
  The other builds are now themed the same as well.  Everything has been softened quite a bit.
So, this just the fluxbox window manager with a terminal, file manager, and a few basics to keep things groovy.  The really neat thing about this is that I have isolated down as far as I can all the extra packages, and this build is fairly small.
Basically, the smallest image (as of now) that I could produce that would allow for all the extra tweaks I have in my other builds, meant to be used as a base for a custom install.
837 total packages installed including all of the firmware.  Total size 795MB
Running Live, 280MB Ram, with all the bells and whistles on. With a custom kernel installed afterwards, 235MB.
You can easily replace Fluxbox for Openbox, or Any other window manager, or just install others you might like afterwards. You may want to grab my Openbox theme to match from github if you do this).
Edit ~/.fluxbox/menu1 for new entries.  I left a bunch commented out to give hints.
Remove the firmware, and your image should be quite reasonable indeed.
https://github.com/sleekmason/Liliflux
Download or clone Liliflux, Unzip the folder, open a terminal in the folder and:
sudo apt install live-build
then:
This will build the iso in the top folder.  See my github directions for further information about the build process.
Merry Christmas Everyone! Or however you may be celebrating this holiday season:)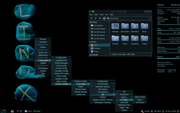 Last edited by sleekmason (2020-12-25 21:55:33)